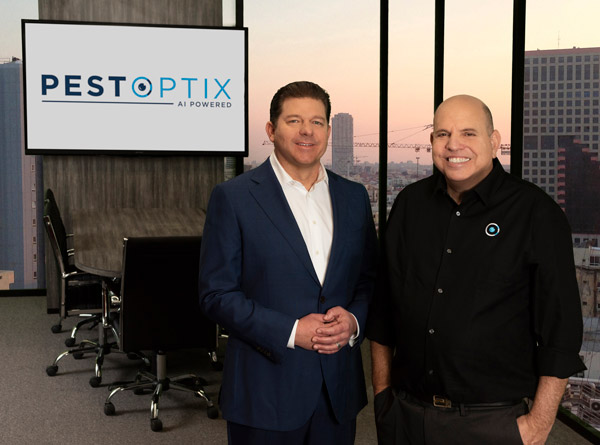 Ethan Vickery and Ronen Amichai
PestOptix was developed by Ronen Amichai, Founder of IPM Square and Ethan Vickery, Founder of VM Products. Their seven-year collaboration has culminated in one of the pest control industry's most game-changing technologies. PestOptix is an important tool for responding to global health risks due to the population growth of rodents worldwide. Rodents can carry diseases such as plague, hantavirus pulmonary syndrome, leptospirosis, and many others, and have the ability to impose tremendous economic and human harm on societies and businesses.

Thanks to their early adoption of IT into the Professional Pest Management industry, Ethan and Ronen have brought the cloud, IoT, Smart Devices, Artificial Intelligence (AI) and Machine Learning (ML) to rodent and pest devices. The PestOptix product line represents the true bleeding edge of the digital transformation in pest control.
The origin of PestOptix traces back several decades. Long before anyone could imagine AI and machine learning in the pest control space, Ronen Amichai, an Israeli entrepreneur, often referred to as "The Godfather of ERM" (Electronic Rodent Monitoring), was curious about how technology could improve processes. During the 1990s, Amichai was being groomed to run his family pest management business, Eitan Amichai Pest Management IPM Ltd. At the time, technology was indeed useful to help pest control companies run better administratively, but out in the field there wasn't as much traction.

His curiosity was given a boost with the invention of the Palm Pilot in the 1990s. Amichai used the device so that technicians could input field information electronically into the tablet. That information was then downloaded through a cradle device connected to the company dial-up internet at the end of the day.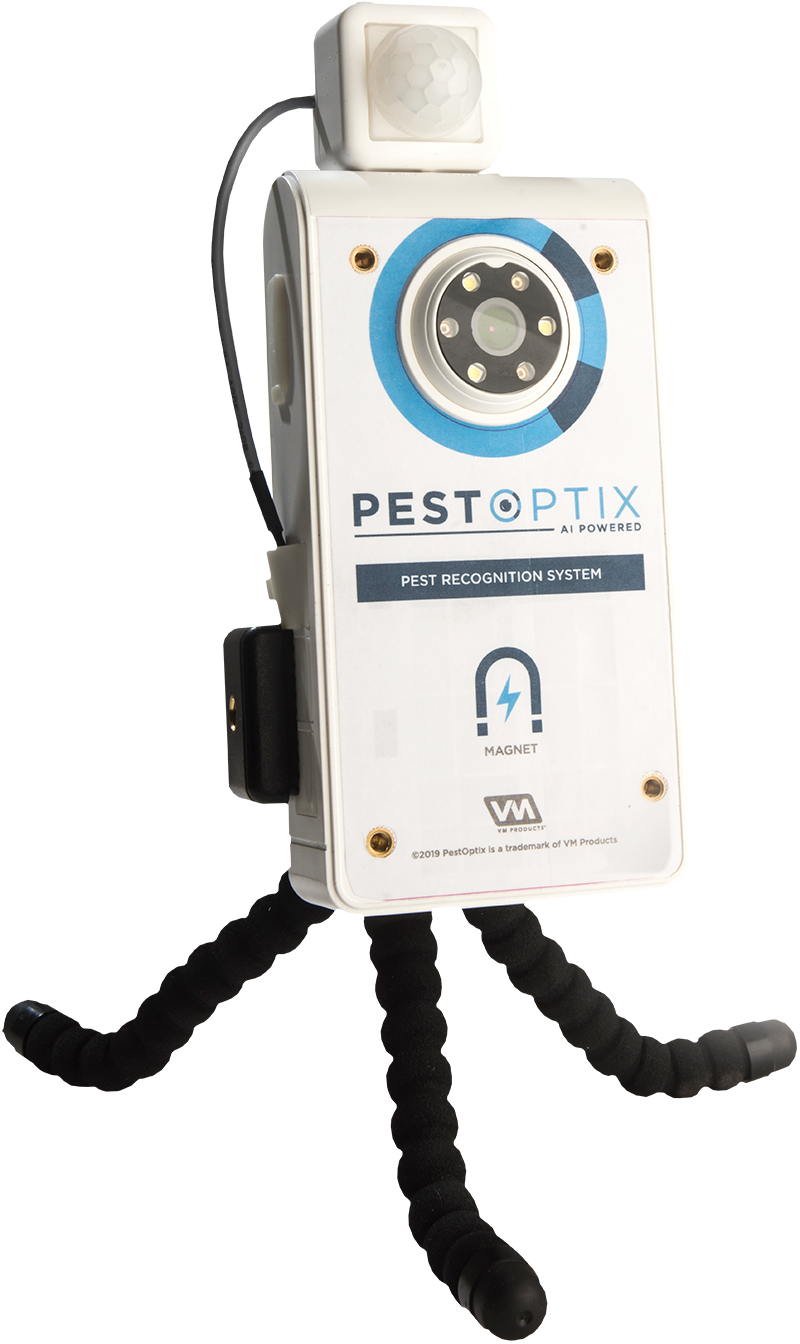 With field data about pest behavior being accumulated into an electronic device, those early dial-up days served as a critical foundation for re-thinking electronic rodent monitoring (ERM). From there, Amichai began researching how to integrate sensors and software with traps and devices, primarily to trigger alerts for pest control technicians about rodent activity. Starting in 2007, he spent the next six years developing sensors and software concepts, but needed a partner to accelerate product development.
In 2014, he met Ethan Vickery, founder of Texas-based VM Products. Launched in 2003, Vickery started the company when he sketched out an idea for a better, easier-to-clean, rodent station on the back of a napkin after dinner at a Macaroni Grill in suburban Dallas. The concept immediately attracted investors and business mentors to help Vickery guide VM from start-up into maturity.

By the time Amichai partnered with Vickery, VM's drive to improve pest control devices was in high gear. VM's production facility and in-house lab allowed for quick design and prototyping and could speed product development. And with Amichai involved in his family business, the pair had access to a real-world test lab to gauge performance.

"How you integrate sensors into the device is a painstaking process, but it's what really matters," Vickery said. "We had the ability to quickly adapt and make applicable equipment to work with the sensors."
The PestOptix team at work
Learning, Overcoming Challenges
Through trial and error, prototyping, and rigorous testing, Ethan and Ronen innovated devices on par with technology coming from the best and brightest minds in Silicon Valley.

Not content to stop there, Ethan and Ronen were fascinated by the emerging use of AI and ML in other fields. The pair initiated a process of data gathering for a cloud "hub" concept they were developing. They used the PestOptix camera and connected it to a cloud-based AI server. They then developed a playground for rodents and installed cameras to take photos of their activity. Photos were fed into the system and ML algorithms, developed and refined over time, would teach the AI server what was and wasn't true rodent activity and, even better, to eventually identify other pest species as well.

"After about 10,000 photos we were seeing that the AI server was starting to do some self-correcting. … By 40,000 or 50,000 photos, the system was starting to see rodents even the technician couldn't see," Amichai recalled.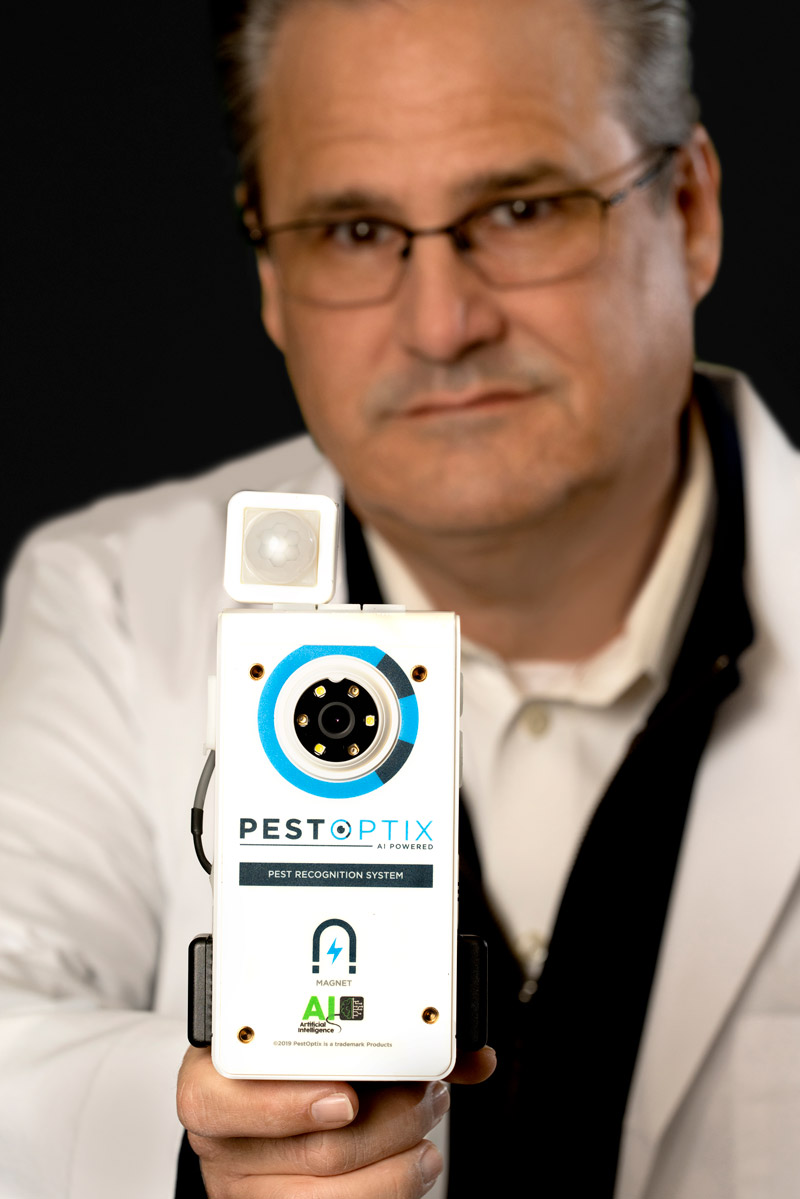 Ethan and Ronen view PestOptix reports via the dashboard
This early work was the base for today's PestOptix facial recognition capabilities, which allows the system to eliminate false positives, while also illuminating what type of activity was really occurring. Every PestOptix-enabled camera is now "smart" by taking a picture of the pest, sending the image to the AI server in the cloud, which in turn, identifies the pest and alerts the technician. All of this is done in real time.

Installation processes were refined as well. Early versions had complicated set-up configurations and it took hours to try to integrate them into existing networks. Today, PestOptix seamlessly flows into common wireless systems, runs on a dedicated router or cellular network and initial set-up can be done in just a few minutes.
Digital Transformation Winning in the Field
PestOptix is particularly useful in areas of homes and commercial environments that are difficult for humans to access, such as drop-down ceilings and attics. In these settings, a photo can be taken with the help of infrared and regular flashes, quickly sent to the cloud-based PestOptix hub to be analyzed by a system whose facial recognition capabilities continuously improve as it's fed more images and data.

Today's system uses both the AI and ML in a virtual cycle to constantly improve recognition helping to identify current and future pest or rodent activity. The machine learning (ML) on the PestOptix Cloud trains the AI to be both more accurate and identify additional pests. A business owner or pest control technician can now be alerted in seconds and knows exactly what's happening before visiting an account. The technician can be better prepared to quickly formulate a plan that works after arriving to the site.
"I'm still running our pest control company. I use it and we save tons of time," Amichai said. "Technicians are able to service in fewer intervals and I can keep more technicians servicing customers without over-working them."

With 1000s of global installations, PestOptix serves customers from all industries – healthcare, restaurants, offices, food processing, residential, to name a few – by helping them to get ahead of pest and rodent pressures while eliminating guesswork in the field.

"What I can say about Ronen is that he is not afraid of anything. We're always pushing the limit of where we can take this technology," Vickery added. "We've set the goal to reinvent the way commercial pest control is done and we're doing it."